Say hello to our little friend! Well, not so little for the 2019 Nissan Altima enters the midsize sedan segment. See the inside look and all the details you need to know why you should buy the all-new 2019 Nissan Altima at the best Nissan dealership in Jacksonville, Florida!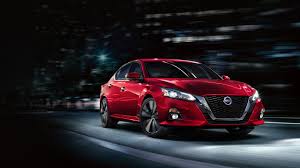 Smooth handles, and responses put the Altima at the top of your list in every vehicle segment you are searching in. The fully loaded vehicle can offer you LED headlights and 17-inch alloy wheels and more killer features that can coincide with its super amazing prices here at Coggin Nissan at the Avenues!
Take a deeper look
A 7.0-inch display in the center of the instrument cluster on the dash will light it's way through the darkest of nights and shine through the light. Four USB ports will keep you and your passengers alive on the roads for your daily commute to long overdue vacations that you can take once you save money here at Coggin Nissan at the Avenues. Comfortable front seats, remote engine start with a proximity key and an 8.0-inch display with Apple CarPlay™ and Android Auto™ are also features that you won't miss with the 2019 Nissan Altima.
Mileage plays a big role in shopping for a new vehicle, especially for commuters and you will be happy to learn that an EPA-estimate 28/39 mpg city/highway for most front-drive trims will save even more money in your pockets. Jet around Jacksonville with ease and comfort of not stopping at the gas station as much.
---
Keep your eyes open on the road for the all-new 2019 Nissan Altima in various shades from cherry reds, to midnight blacks as they cruise by you with style and power. Stop by Coggin Nissan at the Avenues to test drive this bad boy or shop our current online inventory
here
.
Contact us at (888) 918-1390 for more information!