About Us
Coggin Nissan at the Avenues
Located in the heart of Jacksonville, Florida.
We Take A Different Approach
Redefining the dealer experience.
Our mission to become the most guest-centric Nissan dealership is clear across the experience Coggin Nissan at the Avenues offers. Online car buying is part of our digital suite designed to enhace your purchasing and ownership experiences.
Leadership at Coggin Nissan at the Avenues
Myshia Hill is the General Manager at Coggin Nissan at the Avenues who works with Asbury Automotive to deliver an exceptional guest experience. She has worked with Asbury Automotive Group for 16 years. As a Florida native, she is excited to bring incredible service to Jacksonville, Florida. In her free time she enjoys gardening, spending time on the beach, and riding motorcycles.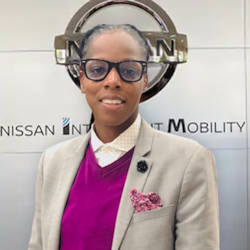 Myshia Hill
904-747-8567
mhill@asburyauto.com





They were able to answer all my questions and that made me feel so comfortable and relaxed and I appreciate them and I thank them for listening to the customer.
Eddie D
Google Review
See what others are saying about us!
Community Involvement
At Coggin Nissan at the Avenues, we pride ourselves on partnering with many local organizations in our community. We are eager to be able to do more and more as we continue our partnership. Here are some of the organizations that are near and dear to us as we continue to grow and establish more partnerships.
At Coggin Nissan at the Avenues,
our mission is to be an industry leader in new and used cars. Coggin Nissan of the Avenues is totally committed to customer and employee satisfaction, integrity and teamwork. Customer service is the key to our success and we have built our reputation on insuring that each and every customer receives the highest levels of customer service. Whether it is our dealers, our employees, or our methods, Coggin Nissan of the Avenues provides some of the best in the business.
When it comes to used cars, Coggin Nissan of the Avenues has what you are looking for, whether it is low mileage or the best value for your wallet. We sell only the highest quality used cars and trucks and only the best are Coggin Certified. Coggin Nissan of the Avenues' goal is for every customer to be confident and satisfied with their used car purchase.
Coggin Nissan of the Avenues is part of Coggin Automotive, a proud provider of quality new and used automobiles to all of Florida. Coggin Automotive is a part of Asbury Automotive Group, the 6th largest automotive retailer in the country, with 81 retail auto and heavy truck stores.
Sales Hours
Monday

9:00AM - 7:00PM

Tuesday

9:00AM - 7:00PM

Wednesday

9:00AM - 7:00PM

Thursday

9:00AM - 7:00PM

Friday

9:00AM - 7:00PM

Saturday

9:00AM - 7:00PM

Sunday

12:00PM - 5:00PM
Service Hours
Monday

7:00AM - 7:00PM

Tuesday

7:00AM - 7:00PM

Wednesday

7:00AM - 7:00PM

Thursday

7:00AM - 7:00PM

Friday

7:00AM - 7:00PM

Saturday

8:00AM - 4:00PM

Sunday

Closed
Directions
Get Directions
Parts Hours
Monday

7:00AM - 7:00PM

Tuesday

7:00AM - 7:00PM

Wednesday

7:00AM - 7:00PM

Thursday

7:00AM - 7:00PM

Friday

7:00AM - 7:00PM

Saturday

8:00AM - 4:00PM

Sunday

Closed