WELCOME TO THE NISSAN
VEHICLE PURCHASE PROGRAM
Get insider pricing and the Nissan VIP treatment with the Nissan Vehicle Purchase Program. Eligible participants can drive away in a brand new vehicle for a hassle-free, haggle-free, pre-negotiated price. As our exclusive customers, it's an easy way to save on a new Nissan. The only thing to worry about is which model and color to choose!
2017 Murano




$4,000


OFF MRSP

2017 Maxima




$4,000


OFF MRSP

2017 Pathfinders




$3,000


OFF MRSP

ELIGIBILITY
Eligible Customer affected by Disaster

VPP participants must reside in the continental United States, Hawaii, or Alaska
Proof of Eligibility Required:
Insurance Adjuster documentation indicating loss of vehicle during date range of disaster event

Drivers License
Additional Details:
Limit one new replacement vehicle per claim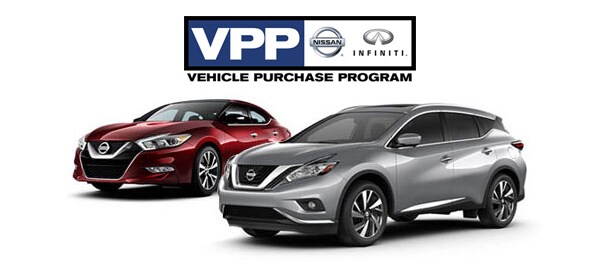 ---

FAQ (Frequently Asked Questions)
What is the Vehicle Purchase Program?
The VPP enables you to purchase a Nissan vehicle at a pre-negotiated price, and it makes the process virtually hassle-free. Just choose the applicable employee type on the home page to start the process of obtaining a VPP Claim ID, take the claim ID to a participating dealership and select the vehicle you want. You'll enjoy VIP treatment throughout the purchase process - and drive home in a beautiful new Nissan.
Who qualifies under the Vehicle Purchase Program and what type of Proof of Disaster is required?
Any customer affected by this disaster. Required documentation is Insurance Adjuster documentation indicating loss of vehicle during date range of disaster event.
How do I finance a vehicle purchased or leased through VPP and are there special rates offered for VPP customers?
Financing is handled the same way it is with non-VPP purchases. If you choose to finance through the dealership, normal credit standards apply. Your Dealership can assist you with the most current offers.
Are all Nissan vehicles eligible for the VPP discount?
No. VPP incentives vary by model and actual savings will vary based on model, trim and options selected. All new Nissanmodels except the Versa S and GT-R are eligible for this VPP offer. Contact your local dealer to inquire about model eligibility.
Can a dealer refuse to honor the VPP discount?
Yes. Please remember, our Nissan dealers are valued business partners/internal clients, but not obligated to participate in the VPP program offers.
How much will the vehicle I'm interested in cost? You can view VPP pricing during the Claim Generation process based on dealer inventory or contact your local dealer for specific model pricing. Please note that any dealer-installed accessories are negotiable between you and the dealership. There is no pre-negotiated VPP price for dealer-installed accessories.
How can I find out what incentives are offered on the vehicle I'm interested in?
For information on current vehicle incentives, contact your Nissan dealer.
Can the value of my trade-in be used to further reduce my purchase price?
No. The value of a trade-in can be used to pay for your vehicle purchase, but it cannot be used to determine your purchase price. Your trade-in must be handled as a transaction separate from the VPP price calculation.
Can the dealer charge me a documentation fee with VPP?
Yes, the documentation fees should be the standard charge for all customers, including VPP customers.
Can I transfer my claim ID to another person?
No. Claim ID can only be used by the person they are issued to, and the name on the sales contract written at the dealership must match.
How long is the claim ID valid?
A claim ID is valid for 45 days from the issue date. If your claim ID expires, you can generate a new one as long as you are within your allotted claims